We passed on the Sea Festival and visited La Conner, WA in the United States – the sister city of White Rock, British Columbia.  Above is the La Conner, WA sign promoting White Rock, BC  –  City by the Sea!
Prior to our visit we tried to develop a business relationship with the town of La Conner, WA chamber of commerce with NO response or success.

The town of La Conner has spent money on their sign (see above photo) and there is no known visible mention of their town to be found in White Rock, BC to the best of our knowledge.
We are offering a White Rock Beach Lucky Coin of a photo of how White Rock is actively promoting La Conner, WA as our sister city in any signage. Some people we have talked to at White Rock Beach share the view that White Rock has neglected our sister city and this needs to be rectified ASAP.
La Conner is smaller than White Rock, but has greater support for the artist community.
We did see some businesses that had closed and were for lease further away from the waterfront. The people and business owners were friendly and welcomed White Rock, BC visitors.
Advertisements

SECURITY SYSTEM STICKERS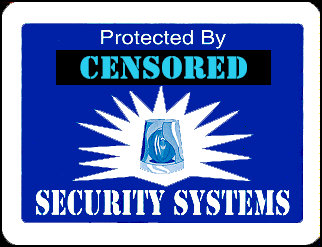 Alarm-Stickers.com
is selling
ALARM STICKERS
in
6-packs, 10-packs, 15-packs & 30-packs
, which is enough to give door an window protection for an small sized homes, larger homes, cottages, or businesses.
*The name appearing on the stickers has been censored to prevent would-be thieves looking for a particular name. **The stickers are white and blue and do not pulsate; the above image is for illustration purposes only*
There is a floating museum – a boat that belonged to John Wayne – COOL.
If White Rock was actively promoting La Conner, WA, we would be seeking retailers of White Rock Beach postcards in La Conner, WA, USA.
These are some of the current White Rock Beach & area postcard retailers:
Save On Foods (Semiahmoo Shopping Centre) 1641-152nd Street, Surrey, BC V4A 4N3
White Rock Pharmacy

,

102 – 1440 George St.,

White Rock

BC

V4B 4A3

WhiteRockBeach.ca- Buy Online - We ship worldwide
The White Rock Beach Gallery - Waterfront Promenade Gallery – (weather permitting)
Mr White Rock - Ric Wallace 604-259-0105 - VISA, MasterCard, Debit & CASH
Sunnyside Evergreen Pharmacy - 2397 King George Blvd. Surrey BC V4A 5A4
Whitby's Books and Gifts - 14877 Marine Drive, White Rock BC V4B 1C2
Pier Souvenirs - 14969 Marine Drive, White Rock BC V4B 1C3

Heavens Angels Gifts & Gelato

15557 Marine Drive Dr White Rock, V4B 1C9
NOTE: Some retailers will have limited postcard selections due to space. Please support the above local businesses that support out efforts.
This is the
ONLY location
you can see most of the
300+ White Rock / South Surrey / Crow ART / Wildlife Of Canada postcards
& greeting cards on display at the same time (even the winter and Christmas postcards - weather and time permitting).
Both White Rock and La Conner are tourist towns and could benefit from a mutually promoted sister city program. When we we lived in London, Ontario, one city councillor developed a sister city near Shanghai in China, out of the travel ability of most city residents (thousands of miles away by airplane). Rumour was the councilor liked to travel for Chinese food to China on the taxpayer's dime. La Conner, Washington is within driving distance and maybe 75 minutes, and it is within reach of most White Rock residents if they have have access to a car and a passport.
If you feel White Rock. BC needs to nourish this sister city program, please let city hall know and members of council.
The sister city program may have been neglected by past city councils and forgotten, BUT NEEDS to be corrected by the current council.
Please email the mayor and all members of council to see what they are the doing to correct this oversight.
We are offering a White Rock Beach Lucky Coin to the FIRST submitter of photos of how White Rock is correcting this problem or any current visible signage promoting La Conner, WA in White Rock, BC.
Nasty Jack's Antiques in La Conner, WA is the COOLEST place in La Conner to visit. When we win a LOTTO MAX jackpot, we will furnish our new house from Nasty Jack's  in La Conner, USA – lots of COOL STUFF.
These are some of the White Rock Beach APPROVED gift shops:
The White Rock Beach ONLINE STORE OPEN 24 -7
White Rock Pharmacy,

102 – 1440 George St.,

White Rock

BC

V4B 4A3

Whitby's Books and Gifts 14833 Marine Drive, White Rock BC V4B 1C1
WhiteRockBeach.ca - Buy Online - We ship worldwide.
The White Rock Beach Gallery - Waterfront Promenade Gallery – Artist Walk Outside (weather permitting)
Mr White Rock - Ric Wallace 604-259-0105 - VISA, MasterCard & CASH where Free WiFi is available
Canadiana Gifts 14853 Marine Drive, White Rock BC V4B 1C1 604-538-2565
Oriental-Link Enterprise LTD. 14969 Marine Drive, White Rock BC V4B 1C3