I will be out of commission for a month or so due to a March 2017 hernia repair to repair a surgery done June 11, 2013. So far, the problem mesh on my left side was in place for 1360 days – constant pain on the left side; now the top layer of mesh has been removed and the hole repaired. So far things feel & look good because of the excellent care at Richmond Hospital, and the hole you could put your finger in (something 11 Fraser health doctors had done) appears to be fixed. I had to deal with a surgeon outside the Fraser Health System to get this fixed. Ultrasounds at the Peach Arch Hospital Nov 2013 and March 2016 showed the problems, and the report described the issues which Fraser Health doctors ignored. The hernia tears occurred in March 2013 (4 years ago). I am hopeful one more surgery can fix the issues with the right side before the 5 year mark.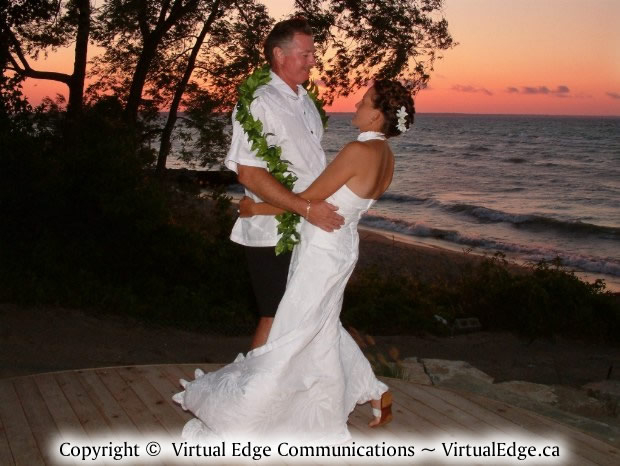 Due to a botched hernia surgery in 2013 we are NOT booking weddings until further notice.
Wedding Gallery #1 | Wedding Gallery #2 | Wedding Gallery #3
Wedding Gallery #4 | Wedding Gallery #5 | Wedding Gallery #6 | Wedding Gallery #7
Because of the hernia issues I had to give up doing wedding photography and in this timeframe have lost over $200K. The idea of the postcards, greeting cards, magnets and Lucky Coins was an attempt to try to make a living (salvage a life) within my limited abilities – see below: filmed May 2014 and published on Jul 16, 2014. My income has been only a fraction of what I was making before the hernia and unsuccessful surgery. My 8 year old computer is acting up; I heard a SIZZLE sound this morning (backing everything up right now) and may soon need to be replaced, so I am having a sale on a few products to raise money for a new computer and other items needed.
White Rock Beach photographer Ric Wallace does the Bird Dance for Tiffany Gurden @TiffanyGurden Video Journalist & Producer for go! Vancouver on Shaw TV, Promo Script Writer, Voice Talent, Self-proclaimed detail perfectionist. Everyone on set thought Ric better not give up his day job and leave the dancing to the seagulls on the beach.
I have put these Lucky Coins on sale until I raise enough money to purchase a new laptop and a few other things needed.
Spend $75 on postcards before tax and shipping, get a FREE White Rock Beach Lucky Coin®.