Welcome to the White
Rock

Beach

.ca Online Store

Special discount for pickup or in person sales – contact Ric Wallace for details.

These are NEW for 2020 – due to COVID 19 concerns sealed in plastic.
Some of the

COOL STUFF

created by

Ric Wallace

White Rock Artist Walk ARTographer ~ Ric Wallace / Postcard King / Mr White Rock / CROWtographer / Webmaster for WhiteRockBeach.ca / AKA LUCKY, has created more White Rock Beach / South Surrey postcards & greeting cards (300+ in total). This is a record which no one has ever achieved in the past. With more postcards planned and the NEW POSTCARD PACKS for 2020 , this record will only be beaten by Ric Wallace himself. He also has a Wildlife of Canada series, and has created other postcards exceeding 300 postcards in total. Ric's wife said if he makes any more postcards she will CROWN him, so he took the title of POSTCARD KING and even picked up a crown.
---
Many options to buy, ONLINE, pickup or delivery in White Rock South Surrey – Call Ric Wallace @ 604-259-0105 or email to find out what is best for you.
---

Ric Wallace – ARTIST STATEMENT
I am a creator of more than 300+ White Rock Beach/South Surrey, Wildlife of Canada, RICco.ca, CrowArt.ca and Harry The Seagull postcards and greeting cards, and consider myself to be an ARTographer. I define "ARTographer" as someone with a strong background in photography, as well as an aptitude for graphic design and the ability to combine the two into one art form, digitally on a computer. On the photography side, I have mastered lighting, composition, and the ability to see the world from a non-traditional viewpoint. I often incorporate shapes silhouetted in photographs for impact and visual interest.

On the art side, I have designed three coins (one with the famous White Rock), three pins, postcards, greeting cards, magnets, annual reports, conceptual drawings, logos, and produced web and graphic design. I have provided photography, web design, graphics, and logos for both start-up businesses as well as multi-million dollar companies worldwide. When adding text to images, I consider style, placement, drop in/drop out, and curved text. ­Being able to visualize the end result gives me a "Virtual Edge" over others (See VirtualEdge.ca).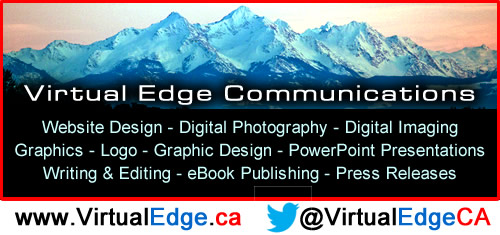 Often when taking a photograph, I think more like an artist or an art director than a photographer. I don't just see the image before me; I visualize its future use in a variety of products and/or media. I like to joke that I consider myself to be a lazy person – I like to do the work once and sell it many times. I have spent countless hours and investing my own money on a project where I can visualize a good return on investment. I have gotten lots of media attention in print, radio, TV, websites and have been seen on TV / read in papers / websites / or heard on radio by over 900 million people worldwide. In July 2014 goVancouver did a feature on me. I have travelled extensively across Canada and have visited various tourist attractions. Even though White Rock Beach is a popular destination, I believe the opportunity for increased tourism is unlimited. After all, White Rock is known as "THE HOLE IN THE SKY," so the sky is NOT the limit – the moon or the stars are! I believe White Rock is a great place to live and run a business, and I am even betting my own future and money on White Rock Beach, BC.
---

The White Rock Beach Gallery / Ric Wallace is awaiting City of White Rock approval to setup at White Rock Beach for my 7th year (I think.)
Pano Prints

/

Matted Pano Prints

/

Framed Pano Prints

Giving the GIFT of ART by ARTographer Ric Wallace

will be a cherished item for years to come. Google his name "

Ric Wallace

" to see what he has done & created and why he is famous. A collectibles dealer in BC said his postcards, greeting cards, Lucky Coins, pins, photos could be considered an investment of value in the future. Ric Wallace is making no claims of future increased value, but it would be an honor in 50 or 100+ years if people are selling his stuff on #ebay or taking it for valuation on the Antiques Road Show. This image is available in two sizes: photo prints you can frame yourself, matted prints to be put into a frame, or ready to hang with a Certificate Of Authenticity.

Mini Pano Prints
Pano prints
The PANO Prints are available at the
White Rock Bach Gallery
or by contacting Ric Wallace @ 604-259-0105.