Ric Wallace – ARTIST STATEMENT
I am a creator of more than 200 White Rock Beach/South Surrey / Wildlife of Canada / CrowART.ca / RICco.ca postcards and greeting cards, photo prints, and wall art and consider myself to be an ARTographer.

I define "ARTographer" as someone with a strong background in photography, as well as an aptitude for graphic design and the ability to combine the two into one art form, digitally, on a computer. On the photography side, I have mastered lighting, composition, and the ability to see the world from a non-traditional viewpoint. I often incorporate shapes silhouetted in photographs for impact and visual interest.

On the art side, I have designed three coins (one with the famous White Rock), three pins, postcards, greeting cards, magnets, annual reports, conceptual drawings, logos, and web and graphic designs. I have provided photography, web graphics, and logos for both start-up businesses as well as multi-million dollar companies worldwide. When adding text to images, I consider style, placement, drop in/drop out, and curved text. Being able to visualize the end result gives me a "Virtual Edge" over others = see VirtualEdge.ca. Often when taking a photograph, I think more like an artist or an art director than a photographer. I don't just see the image before me; I visualize its future use in a variety of products and/or media.
The turning point for me was back in 1995 when someone told me a tale about some white squirrels in Ontario. I consider that moment to be my lucky break and the reason I am where I am today. It was a story I didn't believe – I actually thought it was a joke – until I spotted the creatures for myself. Working with local Ontario merchants, I developed a whole line of white squirrel souvenir products. And it was also the white squirrels that created a need for me to learn website design. After over 23 years, I am still actively promoting and profiting off the white squirrels and squirrels of other colours.
In fact, my Wildlife of Canada greeting cards – some featuring white squirrels – are for sale at a few British Columbia merchants. What I did for the white squirrels, I saw an opportunity for the "white rock" that gave this community its name. For more than four years, I have maintained a popular website – WhiteRockBeach.ca – for promoting the White Rock beach area, as well as my extensive line of more than 150 White Rock Beach postcards and greeting cards, available in stores as well as online. Three of my blogs/websites had over 1.25 million visitors and over 3 million page views in 2012 alone

Thinking WhiteRockBeach.ca needed some mascots; SQUIRRELS seemed like the natural choice, so I gave "Lucky" and "Sugar Toes" the job. One day it was raining at White Rock Beach, so I did a posting about the weather and used an image of my two mascots holding an umbrella to add some humor to the site. Many people contacted me wanting to purchase that image in some form. Long story short, I made some magnets of the two squirrels holding an umbrella and later decided to include that image on the back of all my White Rock Beach greeting cards. The Crows at White Rock Beach have inspired a whole line of Crow Art postcards, greeting cards, magnets, photo prints and wall art and are outperforming the very successful White Rock Beach products.

I have travelled extensively across Canada and have visited various tourist attractions. Even though White Rock Beach is a popular destination, I believe the opportunity for increased tourism is unlimited. After all, White Rock is known as "the hole in the sky," so the sky is NOT the limit – the moon or the stars are! I believe White Rock is a great place to live and run a business, and I am even betting my own future and money on White Rock Beach, BC.

White Rock Postcard Photographer on Shaw TV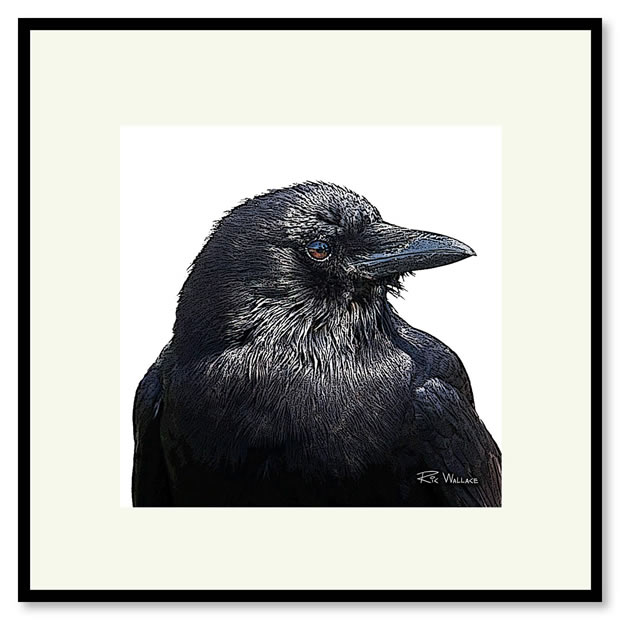 8″x 8″ acid-free matted print of Edgar Allen Crow in a 12.25″ x 12.25″ black aluminum frame

(ABOVE)
$135 all taxes included
8″x 8″ acid-free matted print of Edgar Allen Crow in a
14″ x 14″ black MDF frame
(BELOW)
$125 all taxes included
Just the 8"x 8" print – $19 all taxes included.
Both of these ready-to-hang framed prints are in stock and ready to purchase from
Some of my websites:
Social media:
Edgar Allen Crow - Approved Recipes to Feed Crows

NOTE: Humans will enjoy these as long you do not add any bugs or roadkill to these recipes.
13" x 19" Poster Prints are $50 (all taxes included)
SEARCH BY:
A.M.
,
P.M.
,
Black & White
,
Sunrise
,
Sunset
,
Dramatic
,
HDR
,
Photo Prints
,
The White Rock
,
The White Rock Pier
,
Trains
,
Train Tracks
,
East Beach
,
West Beach
,
Fa
ll
Colours
.
HDR
,
Nighttime
,
M
ount
Baker
,
WA
,
Birds
,
Eagles
,
Wildlife