THIS RESTAURANT  IS  NOW CLOSED
On Thursday May 4, 2012 we went to Fred Meyer's in  Bellingham, WA to fill up with gas at $3.80 per US gal / $1 per liter, while in White Rock, BC gas was $141.7 per liter ($5.385  per US gallon).  On our last trip to Bellingham, a lady parked beside our car and said the Thai Garden was the best, you have to try it.  So we thought we would give it a try this time.
The above salad was served with a peanut sauce dressing, something used a lot in Thai cooking. I told Sugar-toes in the parking lot, I smell peanuts and I was right. The salad was nice and cool and the lettuce was very crunchy , the sign it was very fresh. You can not get a salad like this from a salad bar. The salad dressing was so tasty I was starting to lick the plate, when Sugar-toes said I can not take you anywhere, so I had to stop.  I could have filled up on just the salad it was SO GOOD.
We both ordered the Thai Garden's *Special*
Ka Pow Gai Grob
Chicken, carrots, green beans, red peppers, deep fried basil, garlic sauce and chili paste
Saifon our server asked us how spicy we wanted it on a scale of 1 to 5  stars. Sugar-toes asked for a 4 star. I said, "I want it 5+,"  meaning they will have to call a  fire truck – LOL.  Even the carrots have a nice cut shape. Sugar-toes could not eat all of her's so we brought it home, it even tasted good cold for breakfast. LOL
After our meal we had a nice friendly chat with the own Seng (holding the LUCKY ELEPHANT) and our server Saifon (holding the LUCKY GOLDEN CAT). Seng had come to  the west coast just like us, for the weather and fresh air. On Sunday May 7, 20012, the Thai Garden restaurant will be in business 9 months. Being voted VOTED BEST THAI RESTAURANT in North America by the gang at WhiteRockBeach.ca and LotterySquirrel.com will only add to the excitement. The owner is very excited about his restaurant and the food he serves – YOU CAN TASTE IT AND FEEL IT.  As Arnold Schwarzenegger said – I'll be back.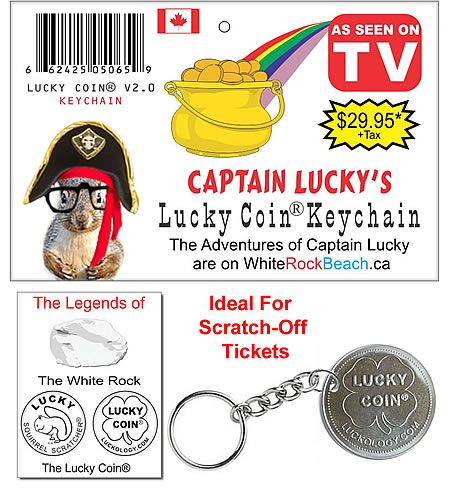 [nicepaypallite name="Captain Lucky ~ Lucky Coin V2.0 keychain in NickelSilver - (LS)" amount="29.95"]