Purchase a 'Empress Tree' in Memorial Park POSTER PRINT by ARTographer Ric Wallace at the White Rock Beach Gallery and receive a FREE greeting card of your choice a $4.50 Value.

It was a sad day at White Rock Beach when we heard the news that on March 1, 2018 the Empress Tree in Memorial Park was cut down. Something we noticed at some of the retailers who sell our postcards and greeting cards: the image shown below was spiking in sales a few weeks before the tree was actually cut down and some retailers almost sold out. (Sales of this image in such quantities this time of year is unusual.) This beautiful tree had lasted salt sprays, wind storms and people using the immediate area. If you would like a keepsake – an image of this tree – visit WhiteRockBeach.ca or a Postcard or greeting card retailer or visit the WhiteRockBeachGallery.com. We hope the City of White Rock plans on planting a similar tree in its place or it could be a fall election issue.
One of our retailers was topped up with this image Feb 28, 2018 the day before the tree was cut down as they were almost sold out. We also have some photo prints of this tree in winter – see below. The sale of the above 13″ x 19″ poster print is expected to be the number one selling poster print for 2018.
The Empress Tree in Memorial Park at White Rock Beach makes the news: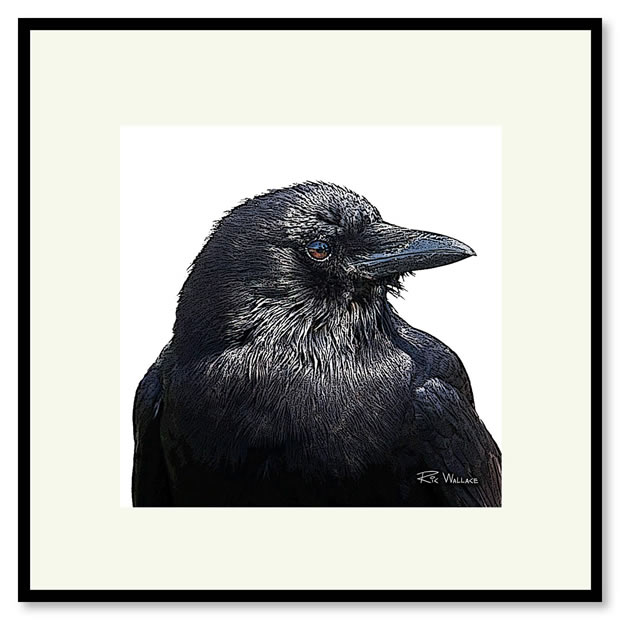 8″x 8″ acid-free matted print of Edgar Allen Crow in a 12.25″ x 12.25″ black aluminum frame

(ABOVE)
$135 all taxes included
8″x 8″ acid-free matted print of Edgar Allen Crow in a
14″ x 14″ black MDF frame
(BELOW)
$125 all taxes included
Just the 8"x 8" print – $19 all taxes included.
Both of these ready-to-hang framed prints are in stock and ready to purchase at
"Your Positive Community Pharmacy"
102 – 1440 George St., White Rock BC V4B 4A3
TEL 604-542-4878
Contact Ric Wallace at RICco.ca