October 30, 2017 6: 05 am
The gang at WhiteRockBeach.ca want a song to futher expand our efforts of promoting White Rock Beach – the hole in the sky. We tried unsuccessfully to interest a few musicians over 5 years ago – Lucky has put his paw down – HE WANTS A SONG ON OUR SITE this summer. So far we have 90 White Rock Beach / South Surrey postcards, greeting cards, magnets, a White Rock Beach Lucky Coin and a keychain, wall art, photographic prints and a COOL web site – WhiteRockBeach.ca. We need a song and a drone to take COOL photos for this site and more postcards. Purchasing these items helps fund our efforts and maybe give Lucky the title of AERIAL DRONE PILOT / PHOTOGRAPHER – COOL. We are also looking for POSTCARD SPONSORS.
Lucky has done this before and enlisted the help of some talented people, producing a COOL song as an MP3 for FREE and later making a video of the Black Squirrels in Victoria Park, London, Ontario. We released the website Victoria-Park.com on Victoria Day May 24, 2003. We enlisted the help of others to create a song. We plan on doing the same for White Rock Beach.
There will be a separate posting of the shopping list for the "White Rock Beach – the hole in the sky" song.
Lucky supplied a shopping list of things to be included in the Black Squirrels of London song and the final product was amazing – click the RED button and judge for yourelf.


A London, Ontario recording studio bordering Victoria Park in London, Ontario wanted $2400 to master the song and could have had great exposure. They turned us down for FREE promotion and later went out of business (they missed the opportunity of a lifetime). We did the song for FREE in Peter Snell's basement and a spare bedroom at Dan Rutledge's home. There is a recording studio in White Rock we might be able to do it for FREE for credit – if not, we will find another way.
A film crew from

Boston,

came to Victoria Park in London Ontario to film
Peter Snell singing
the Black Squirrels of London Song for American TV.

THE BLACK SQUIRRELS OF LONDON has been performed many places, including live on TV, in Victoria Park at the bandshell and on the radio in Canada and the USA. TLC's Lottery Changed My Life even came up from the USA to film the squirrels in Victoria Park.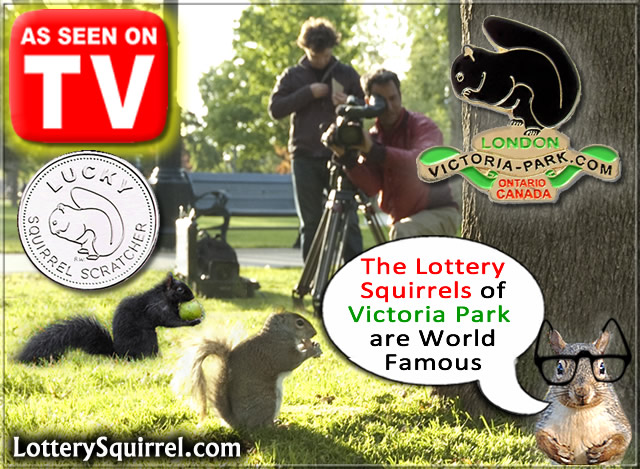 Current White Rock Beach, BC resident "LUCKY the Lottery Squirrel " used to panhandle for peanuts in Victoria Park London, Ontario and would meet with media wanting the scoop on the park and the squirrels.
How Lucky helped create a song for the Victoria-Park.com site:
This is from the email sent to Peter Snell in 2003
I am not a singer or musician, you are the artist. I only want to give a few guidelines…
up-beat tempo to make it memorable and something I hope local stations will want to play.
I would like to review the words before you record.
===========================================
These are the guidelines of the song sent to Peter Snell May 05, 2003 11:20 AM

The words in RED made the final cut.

I would like the name to be

THE BLACK SQUIRRELS OF LONDON.
This will promote the black squirrel population of London and Ontario

I would like have partial credit for the lyrics

Lyrics by: Peter Snell & Ric Wallace & Sheila Tofflemire
Composed by : Peter Snell

I do not care about any royalties.

I would like to use the song on the web site and also incorporate into multi media @ no charge.

MAKING THE SONG AVAILABLE FOR FREE WILL GET EXPOSURE

These are some of the words or ideas I want incorporated into the song.
You are the composer. (the words in RED made it into the song)

Vicky the victoria park squirrel
mention the holy roller ( sherman tank)
they gather at the holy roller at dawn and dust
cannons – 3 of them
share your lunch with a squirrel
the forest city
the squirrels of London were exported to Kent state university in the 60's.
now populate the state
Kent state shares our pride of our squirrels
they climb the hills and trees of London.

chorus
Squirrels are the best things to grow on trees on trees
the squirrels of Victoria Park are the friendliest goodwill ambassadors
Always attentive and ready to do a trick
they are now cyber squirrels on the web at victoria-park.com (very important to mention the web site )
So help show our pride
The mp3 song was produced in 2003; this video was produced in 2005.
We can do a better job today in HD or maybe 4K.
The Black Squirrels of London
There's a little bit of heaven in London
In a downtown park near city hall,
Trees are home to the squirrels,
Attractions of nature call……………..
CH. – Vicky, in Victoria Park
Vicky, London's black squirrel…
Goodwill from the Forest City,
Welcome every boy and girl…
Vicky, in Victoria Park,
Vicky, London's black squirrel….
Log her in on your computer,
Victoria dash Park dot com,
Victoria dash Park dot com.
Any day, come and visit Vicky
Near the "Holy Roller" tank on display,
Share your lunch with some squirrels,
Watch them jump on the cannon as they play….CH
Many years ago in the 60's
Black squirrels of London were exported far away.
To Kent State University,
They populate the state today…. CH
Lyrics by: Peter Snell, Sharron Snell, Ric Wallace, Sheila Tofflemire and Dan Rutledge
Composed and arranged by: Peter Snell and Dan Rutledge
These LUCKY BLACK SQUIRREL pins have been shipped around the globe (for over 13 years) to places like White Rock BC and all over Canada & the USA, Norway, United Kingdom, Australia, Spain, Germany, Holland, Japan, New Zealand, etc.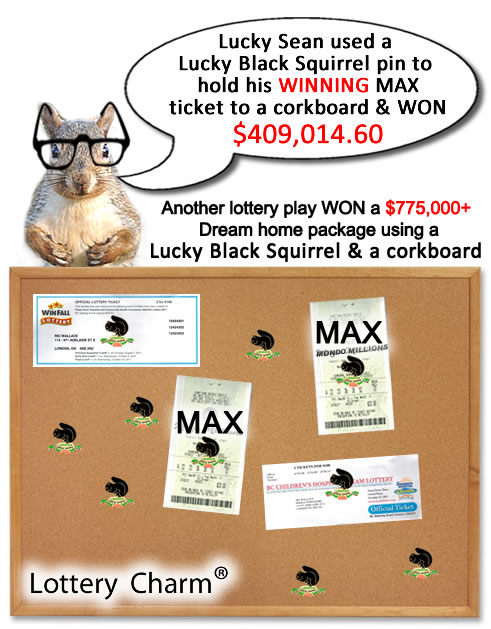 Anyone who creates a song with our approval gets FREE exposure on this site, some FREE photography, a White Rock Beach Lucky Coin and some other COOL stuff (sorry no cash). We have many conections with the media and will try to get you on TV – See the video below.

Any interested musician / composer please use our contact form for more details.
The gang here is working on a shopping list of words for the song.
We would also entertain the idea of a couple diferent verions of the song. Anyone can create their own song about White Rock Beach and do not need our permission. If you want our endorsement on WhiteRockBeach.ca and the song on this site, plus FREE media promotion, contact us and we will help create something that has never been done. You could think of this as White Rock Beach Idol – LOL.
Ric Wallace and postcards were featured on the Discovery Family channel in the USA in 2014. Sharp Entertainment in New York City has contacted him on many occasions as he has been on two of the shows they produce. He has been seen by over 300 million TV viewers in Canada, United States, United Kingdom, Australia, Germany, etc. A follow-up story of what he is doing is of interest to their viewers.
Promote White Rock Beach and your name / business / website to the WORLD. Some of our sponsors include White Rock Pharmacy, White Rock Photo, José & Co. Custom Jewellers
Ideal for individuals and families wanting to have a memorial keepsake or businesses wanting a unique opportunity to maybe gain more recognition by having their business name and website purchased by local residents and tourists as keepsakes or to be mailed around the world.
White Rock Postcard Photographer Ric Wallace - Mr White Rock on Shaw TV
These are some of the current White Rock Beach & area postcard retailers:
Save On Foods (Semiahmoo Shopping Centre) 1641-152nd Street, Surrey, BC V4A 4N3
White Rock Pharmacy

,

102 – 1440 George St.,

White Rock

BC

V4B 4A3

WhiteRockBeach.ca- Buy Online - We ship worldwide
The White Rock Beach Gallery - Waterfront Promenade Gallery – (weather permitting)
Mr White Rock - Ric Wallace 604-259-0105 - VISA, MasterCard, Debit & CASH
Sunnyside Evergreen Pharmacy - 2397 King George Blvd. Surrey BC V4A 5A4
Whitby's Books and Gifts - 14877 Marine Drive, White Rock BC V4B 1C2
Canadiana Gifts - 14853 Marine Drive, White Rock BC V4B 1C1
Shefield & Sons Tobacconists - (unit 109) (Semiahmoo Shopping Centre)
Oriental-Link Enterprise LTD. 14969 Marine Drive, White Rock BC V4B 1C3

Heavens Angels Gifts & Gelato

15557 Marine Drive Dr White Rock, V4B 1C9
NOTE: Some retailers will have limited postcard selections due to space. PLEASE NOTE: The White Rock Museum does NOT sell our products (turned down 3 times) as they have no interest in our products. Please support the above local businesses that support out efforts.
This is the
ONLY location
you can see most of the
118+ White Rock / South Surrey postcards
& greeting cards on display at the same time (even the winter and Christmas postcards - weather and time permitting).